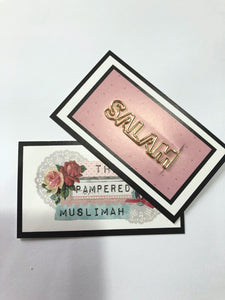 Deen Inspired Paper Clip / Bookmark - Salam
Our word clips are both beautiful and functional! They serve as excellent daily reminders...helping us to keep our deen always in our minds and hearts.
Use these clips to keep papers organized, mark your place in a book, or as decoration. Who says paper clips need to be boring?! Try using these clips in your planner, journal, notebook, Qu'ran and more!
Know a stationery and office supplies addict?! These make a perfectly unique gift!!